From a warm, lush haven of native plants to a wind-swept shoreline patch, gardens have the potential to nurture, educate and enchant us. The exhibition Garden Futures shows how, writes Cath Pound.
Gardens are, more often than not, a tranquil place of refuge. However, they have always revealed much about the attitudes and priorities of the culture in which they were created. Garden Futures at Germany's Vitra Design Museum showcases a number of unique spaces that take a much broader approach to what they can be. Whether promoting biodiversity, making innovative use of precious green space to feed and nurture a community, or drawing inspiration from popular culture to create a private fantasy world, they reveal that gardens have the potential to nurture, educate and entertain, all the while dazzling us with the sheer wonder of nature.
The Gardens of Marqueyssac in France symbolise an era of elitism, but are now open for all to enjoy (Credit: Romaine Laprade)
Julien de Cerval, The Gardens of Marqueyssac, Vézac, France
The picturesque gardens of the Chateau de Marqueyssac in Vézac are a classic example of the western formal garden, the style of which was perfected in France having initially been inspired by the Paradise gardens of Persia. In the 1860s the then owner of the chateau, Julien de Cerval, began planting thousands of boxwood trees which he had carved into elaborate, rounded shapes. The trees are complemented by over 6km of pathways, belvederes, rockeries and waterfalls.   
Although undoubtedly stunning, for many this type of garden was a symbol of aristocracy, and therefore disliked. Rich men owned gardens such as these; poor men worked in them. The gardens fell into disrepair in the second half of the century, but a new owner restored them and opened them to the public in 1997. They are now listed as a National Historical Monument.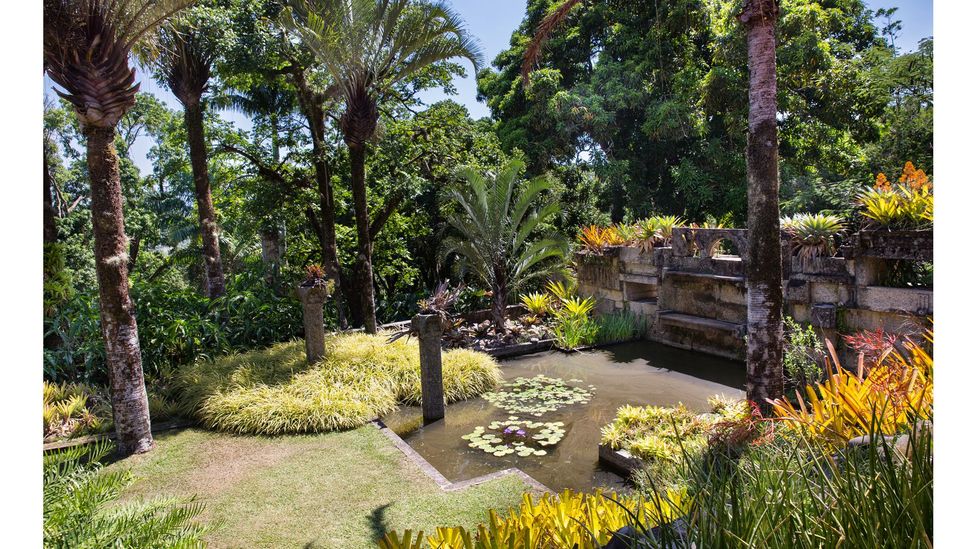 Sítio Roberto Burle Marx in Rio de Janeiro is now preserved as a Unesco World Heritage site (Credit: Getty Images)
Sítio Roberto Burle Marx, Rio de Janeiro
Roberto Burle Marx was one of the great landscape artists of the 20th Century. He is responsible for modernising Brazilian garden design but also made a major contribution to the protection of the rainforest with his research into native flora.
Despite being born and raised in Brazil, Burle Marx's first encounter with plants from the Amazon rainforest was at the Botanical Gardens in Dahlem, during a year and a half he spent in Berlin in the late 1920s. Frequently referring to the experience as an "awakening", he realised that the European-influenced gardens back home were virtually devoid of native species. He made it his mission to correct this anomaly, becoming an ardent defender of biodiversity in the process.
In 1949, he and his brother bought Sítio Santo Antônio da Bica, a farm on the outskirts of Rio de Janeiro, which would become a testing ground for his botanical and artistic research.  
"He was really interested in primary research about the plants, and understanding what environment they would need to thrive, which plant went with which and how to propagate them and how to turn them into these amazing garden artworks," says Viviane Stappmanns, co-author of the book that accompanies the exhibition.
At Sítio Santo, he was able to explore the colour combinations, shapes, textures, contrasts and perspectives that could be created with native plants before integrating them into his designs. During his lifetime, he and his team collected and cultivated more than 3,500 plants, many of which he discovered himself. So important was his work that Sítio Roberto Burle Marx is now preserved as a Unesco World Heritage site.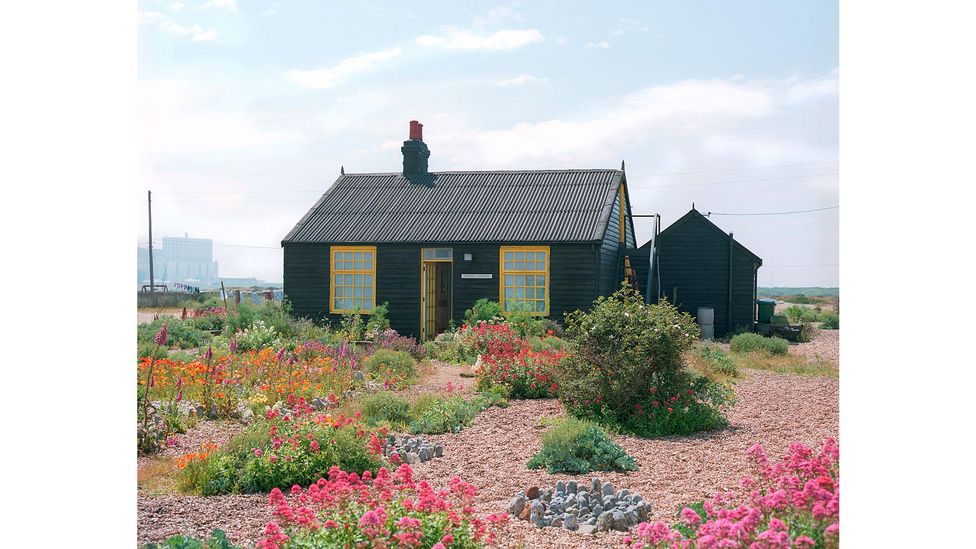 Prospect Cottage Garden at Dungeness, Kent was nurtured in harsh, windy conditions by filmmaker Derek Jarman (Credit: Howard Sooley, 1993)
Prospect Cottage Garden, Dungeness
In 1986, the artist and filmmaker Derek Jarman was touring Southern England filming footage for an experimental film that would be titled The Garden. Stopping off at Dungeness in Kent, together with his partner Keith Collins and the actress Tilda Swinton, he came across Prospect Cottage, a small fisherman's hut that happened to be up for sale. Despite it being in the shadow of a nuclear power station and subjected to a hostile climate all year-round, Jarman was besotted. He bought the property and moved in, but tragically in December of the same year he was diagnosed with HIV.
Jarman's desire to create a garden following the diagnosis, and on such unpromising land, has come to be seen as a determination to create life in the face of death.  
It seemed impossible at first. Jarman's attempts to grow roses in the barren, stony soil failed miserably. But then he began to look for local species that had learned to endure the coastal winds and lack of rain. He found that plants such as seakale, gorse and poppies thrived there. These – together with lavender cotton, foxglove, thistle, lathyrus and flax – are what he grew among the shingle that surrounds the cottage, helped, it has to be acknowledged, by layers of compost buried beneath the surface. Pieces of driftwood and rusty metal form an idiosyncratic sculptural display at the rear of the cottage, adding to the sense of the garden as artwork.
After Jarman's death in 1994, the garden was cared for by Collins until his own death in 2018. A fund-raising campaign by the British Art Fund in 2020 ensured that the cottage and garden would be preserved, and it is now possible to visit by prior appointment.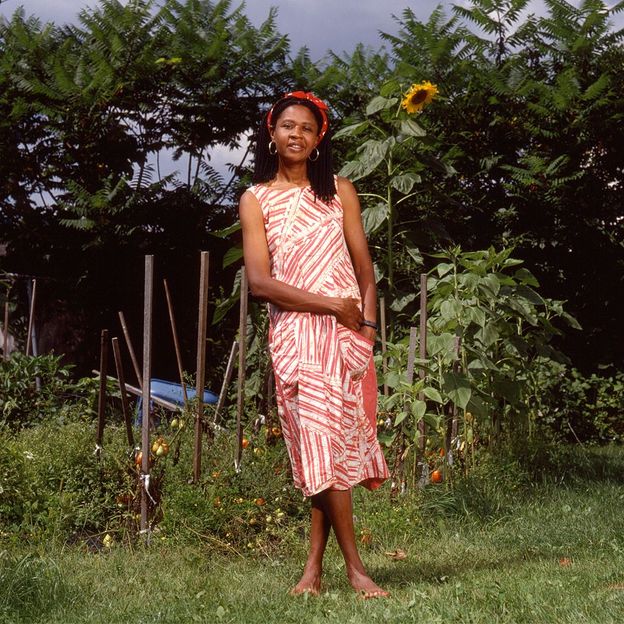 Novelist and garden writer Jamaica Kincaid has created a garden in Vermont that references global horticultural history (Credit: Getty Images)
Jamaica Kincaid's garden, Vermont
The garden of Antiguan-American novelist, academic and garden writer Jamaica Kincaid is not currently open to the public, although her admirers are able to catch glimpses of its verdant lusciousness on her Instagram account. It is undeniably beautiful, but Kincaid frequently uses it as inspiration to explore the hidden ugliness of global horticultural history. A history that, it is all too easy to forget, is frequently tied up with colonialism, cultural appropriation and displacement.  
"She's addressing this thing that is slowly seeping into public consciousness. There are a lot of fashions around plants but often their cultural history can become neglected or eradicated along the way," says Stappmans.
Kincaid is aware that many of the plants she was most familiar with growing up in Antigua were not actually native to that country, breadfruit being a prime example. Although it is now synonymous with the Caribbean, it was introduced there as it was an easy-to-grow food for enslaved workforces.
She notes that the Spanish invader Hernán Cortés didn't mention the dahlias, zinnias and marigolds he likely saw in Montezuma's famous Aztec garden in the 16th Century and yet, she insinuates, Spain's brutal conquest of Mexico is why we are able to enjoy them in our own gardens today.
As Kincaid forces us to acknowledge, our ability to appreciate the beauty of the flora and fauna around us is often reliant on ugly events of the past.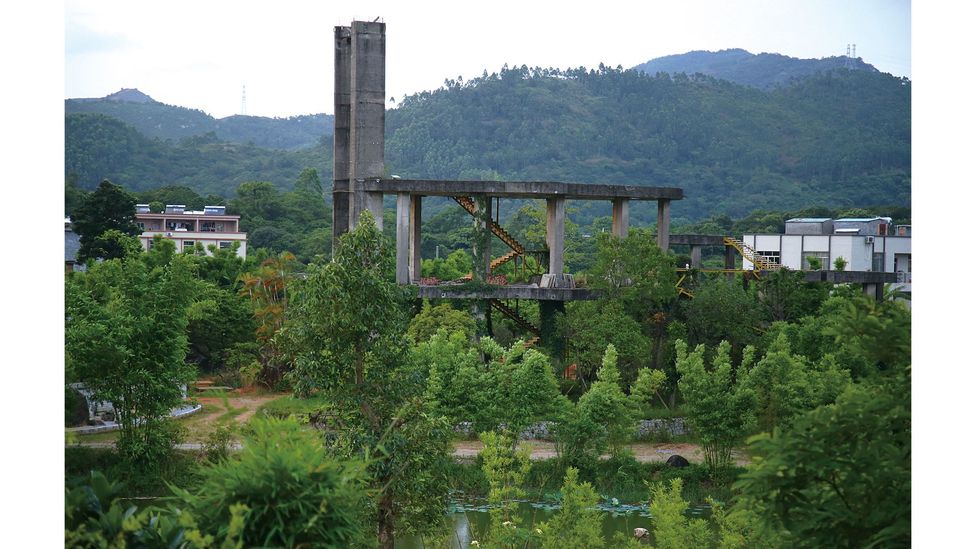 Liao Garden, Yangjiang, is among the gardens featured in the exhibition Garden Futures (Credit: Courtesy of Zheng Guogu and Vitamin Creative Space)
Liao Garden, Yangjiang
Popular culture and gardening are not something we would usually think to put together. Yet it was the hugely popular computer game Age of Empires that provided the initial inspiration for Zheng Guogu's Liao Garden in his hometown of Yangjiang.  
For Guogu, an artist whose work explores the impact of digital technology and western culture on Chinese tradition and contemporary life, the garden seemed like a logical extension of his artistic practice. He began constructing the garden in 2005, basing it on the game in which players occupy land in order to create their own new worlds. Guogu dug canals, built houses, planted trees and even constructed mountains.
Over time the garden has evolved to include a Museum of the Wind, a series of open layers connected by staircases which, as the name suggests, exhibits nothing but the wind, a Frangipani garden (a plant rarely seen in Chinese gardens), and a landscape feature called a tianchi which includes more than a dozen layers, each containing a pool of water.
Guogu has likened the garden to the Chinese private gardens of the past, such as the classical Suzhou gardens that encircle nature. "You are inside and couldn't care less about the outside. One should keep the spirit of tradition and not lose the spirit of the garden," he says.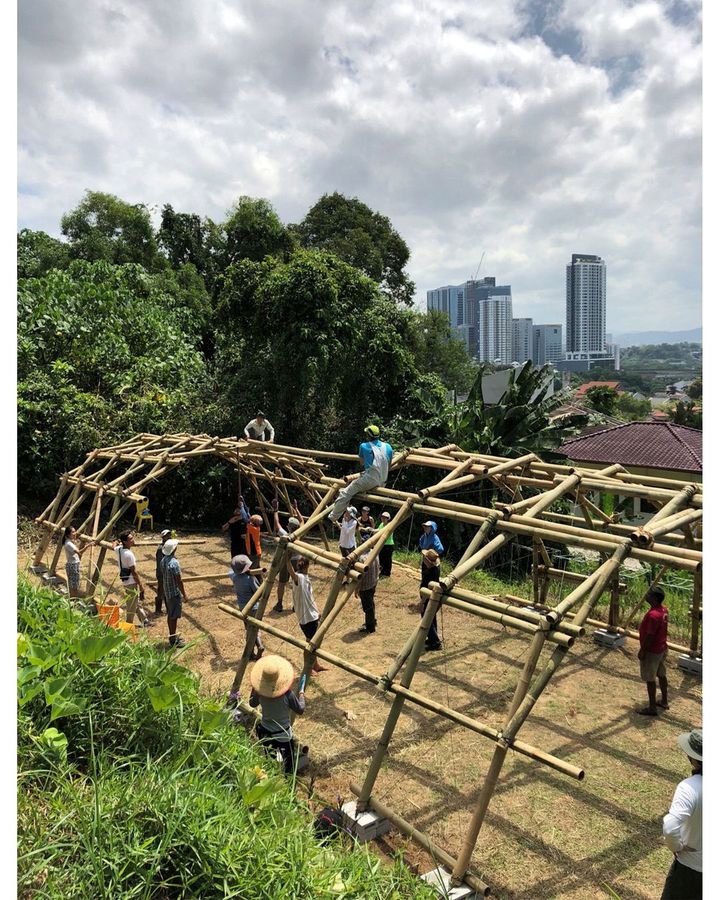 The Kebun-Kebun Bangsar in Kuala Lumpur is a haven for the local community (Credit: Courtesy of Kebun-Kebun Bangsar]
Kebun-Kebun Bangsar, Kuala Lumpur
Kebun-Kebun Bangsar is a space in which the boundaries between park, allotment and community garden blur. Initiated by Kuala Lumpur-based landscape architect Ng Sek San and a group of volunteers, it makes innovative use of a seemingly unpromising space – a long strip of land under a power line. However, in a city that only has five sq m of green space per person – the WHO recommends 50 sq m – every spot is precious. Last year, the organisers successfully fought an eviction notice.
Feeding underprivileged people was one of the primary objectives in starting the garden, as was teaching locals how to prepare for potential food insecurity by growing their own produce. When the pandemic happened in 2020, the situation they had been preparing for was suddenly upon them. There were shortages in the supermarkets, but the garden proved to be a plentiful source of supply.
Post pandemic, the garden continues to be a haven for families and volunteers, and in addition to providing food to local residents, it also plays a key role in waste management. Food scraps from the entire neighbourhood are turned into compost.
Sek San hopes the garden will be seen as a precedent, and that others will make equally innovative use of underutilised land in order to benefit their local communities.
Garden Futures: Designing with Nature is at the Vitra Design Museum, Weil am Rhein, Germany, until 3 October 2023.
If you would like to comment on this story or anything else you have seen on BBC Culture, head over to our Facebook page or message us on Twitter.
And if you liked this story, sign up for the weekly bbc.com features newsletter, called The Essential List. A handpicked selection of stories from BBC Future, Culture, Worklife and Travel, delivered to your inbox every Friday.