Namibians should brace for a particularly cold winter this year, following the approval of a bulk power supply tariff increase next month.
This comes as national power utility NamPower has been granted an 8,97% tariff increase for the current financial year by the Electricity Control Board (ECB).
The increase will come into effect next month, raising the previous rate of N$1,82 per kilowatt-hour to N$1,98 per kilowatt-hour.
Currently, an electricity voucher of N$10 provides consumers with about 4,20 electricity units, while N$20 provides 8,40 units.
A voucher of N$50 provides about 21 units, while a N$100 voucher buys about 42 units.
The proposed increases will continue for the next three years as the estimated tariffs for the 2024/25 financial year are expected to increase by N$2,08, N$2,18 in 2025/26, and N$2,29 per kilowatt-hour in the 2026/27 financial year.
NamPower's managing director, Kahenge Haulofu, last week said the tariff hikes are expected to offset the rising costs of importing electricity, ensuring a stable and reliable supply of electricity for the country's growing energy needs.
"The application for a 16,87% tariff increase is driven mainly by forecasted increases in the cost to import electricity, and also to recover the additional money spent on importing electricity in the 2021 and 2022 financial years when output at Ruacana was very low," Haulofu said.
SEEKING APPROVAL
City of Windhoek spokesperson Harold Akwenye says the city will seek approval from the minister for urban and rural development, Erastus Uutoni, before effecting an increase.
"We have to table it to the minister this month for his approval," he says.
Public Service Union of Namibia (PSUN) secretary general Mathew Haakuria says a power price increase would be a further burden on workers who are already battling inflation and petrol prices.
"Salaries must also be increased across the board, which, unfortunately, is not the case here," he says.
He said such change should be effected after broader consultation with all the ECB's stakeholders.
"If there is no social dialogue with all stakeholders people will find it difficult to understand why you are increasing?"
'DISASTER'
Labour researcher Herbert Jauch says an increase of 8% in electricity prices will be a disaster for most Namibian households.
"As electricity is essential for households, the additional increase is bad news, following shortly after the increase in the lending rates announced by the Bank of Namibia, thus any type of loans and bond repayments increase for households," he says.
Jauch says it seems none of the regulators realised so many households are on the brink of economic collapse.
"They merely pass on costs to consumers seemingly without consideration for the social consequences. Such practices would lead to an increasing number of households being unable to afford electricity as an essential good," he says.
He added that electricity is likely to become the privilege of a few, similar to issues of housing and sanitation.
Head of the Katutura Community Development Committee Benestus Kandundu says the electricity tariff increase will double the burden on community members who already owe the municipality money.
"We are asking the City of Windhoek to relax our debts for a clean slate, because we have lost people during the Covid-19 pandemic, and we are left with the burden of paying debts, and this increase will worsen the situation," he says.
"The ECB increase will only add greater stress," warns John Hopkins, the chairman of the Swakopmund Residents' Association.
"The residents of Swakopmund will bear the disproportionate burden of these rising costs," he said.
The chairperson of the Joint Walvis Bay Residents' Association, Gavin Brasler, mirrored Hopkins' apprehension, particularly highlighting the strain on the elderly population.
"It just puts more strain on the old people with their measly N$1 300 grant […] Nobody can cope any more."
Henties Bay mayor Lewies Vermaak believes the solution lies in restructuring Namibia's resource management.
"We can create a platform in Namibia where we can create job opportunities from diamonds down to lithium," he says.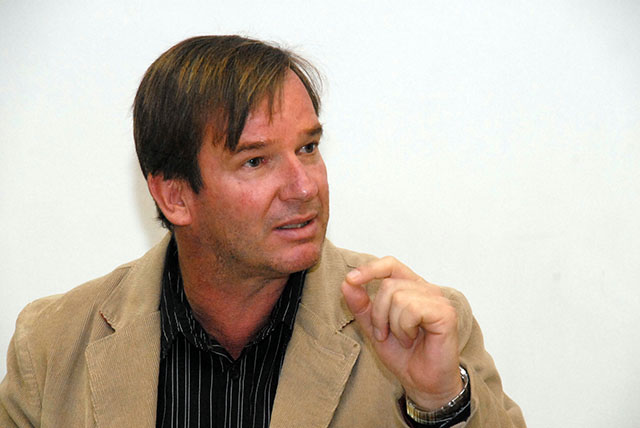 'EVIL MISTREATMENT'
Chief executive officer of Erongored Tino !Hanabeb says the company is yet to determine the tariff increase's impact.
"Once we receive the official communication, we will be in a position to determine the impact the NamPower tariff increase will have on different customer categories, as well as on the operations of the business," !Hanabeb says, promising a responsible approach.
Nored chief executive officer Fillemon Nakashole could not comment.
Nicolaus Ndumba, chairperson of Rundu Urban Community Association and a councillor at the Rundu Town Council, says the increase comes at a time when the country is already facing significant challenges.
With poor rainfall affecting crops and causing drought, the tariff increase will only make things worse for already struggling citizens, he says.
"How can they think of such evil mistreatment to increase the basic commodities? We are on our knees right now," he says.
FORCED TO REDUCE USAGE
Households already feeling the pinch of the cost of living, say they are now left with no choice but to adjust their lifestyles to save on electricity costs.
Lydia Kefas, a resident of Oluno at Ondangwa, says her household spends an average of N$500 on electricity per month.
"Everything has become expensive these days. I think it will be a wise decision for us to cut down on power usage and save costs. We will start cooking food on open fire and only use power for light," she says. Emilia Hangula from Helao Nafidi in the Ohangwena region says her family is obsessed with turning off lights, unplugging chargers after use and cooking only once a day.
"If things continue rising, we will be left with no option but to move back to the village," she says.
– Additional reporting by Hileni Nembwaya, Adam Hartman and Petrus Muronga