Magdalena Wayoya remembers her late brother as a good and loving child.
Magdalena is Sandrake Wayoya's sister, one of the boys who drowned in the Okavango River last weekend.
Sandrake (17) and Kerko Sikongo (11) drowned last Saturday when they allegedly went to the river to collect clay.
Sandrake was a Grade 8 pupil at Sauyemwa Combined School.
Kerko was in Grade 3 at the same school.
Sandrake and Kerko were neighbours at Sau­yemwa settlement.
Their bodies were only recovered last Monday.
"My brother was a good child, and he didn't have any problems when you correct him or tell him to do something," Magdalena says.
"I loved my brother so much. Wherever I went, I went with him. At the village, we were together. People said we looked alike.
"My father left us a long time ago, but I was proud to be left with two brothers, because when I was in trouble, they helped me out," she says.
Both Magdalena and her mother are unemployed.
Magdalena has obtained a certificate in health assistance from I-Care Health Training Institute.
"When I went to school, I left my mother with my brothers', and they would always assure me that everything was well.
"Who am I going to leave my mother and grandmother with now?" she asks.
Magdalena recounts that day of the incident.
"I went to my grandmother's house and found him cooking in my cousin's room. I told him to go back home to be with Mom when he was done, since I was scheduled to go to church.
"After a while, my mom told me it was time to go to church, and I left. My mom was plaiting my younger sister's hair.
"While at church, I received a call from my other brother, who broke the news to me that my brother has drowned in the river," she says.
Sandrake drowned trying to save Kerko.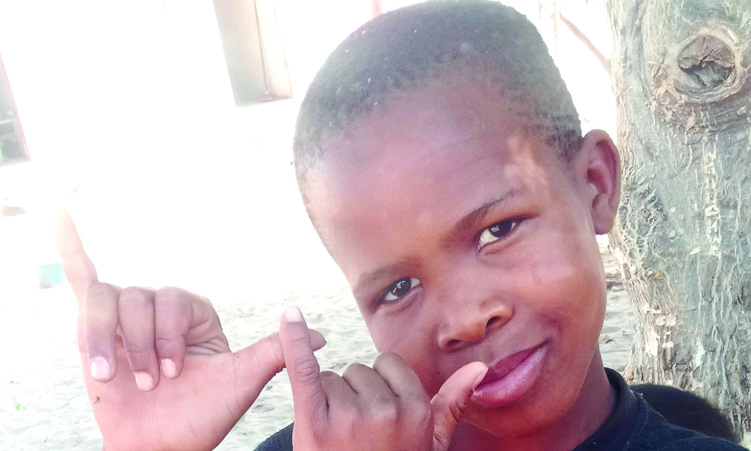 Magdalena says before going to the river, Sandrake came back home to change his pants and said he was going to the neighbour's house to escort some girls who were going to fetch some clay sand from the river.
She says her younger brother, Sunday, wanted to follow Sandrake, who told him he was coming back and waved at him.
"Sunday, please stay. I am coming. Bye-bye," were Sandrake's last words, she says.
According to the girls, the group of children were cautioned by a woman who was working in her garden not to swim in the river, since it was full.
The children then decided to go to 'Basi', a part of the river known for its depth and strong current.
It is alleged that a four-year-old boy they went with accidentally pushed Kerko, who slipped and fell into the river.
Namibian Police acting regional commander deputy commissioner Eino Nambahu says Sandrake jumped into the water to try and save Kerko, but failed.
He says they were both swept away by the river's strong current.
Kerko's aunt, Hilma Shikukumwa, says they are distraught by his death.
"He was a good and clever boy in the house, and he was not naughty in any sense," she says.
One of the boys who was among the group of children, is receiving counselling after the events.